---
AN OPTION FOR EVERY SKILL LEVEL
---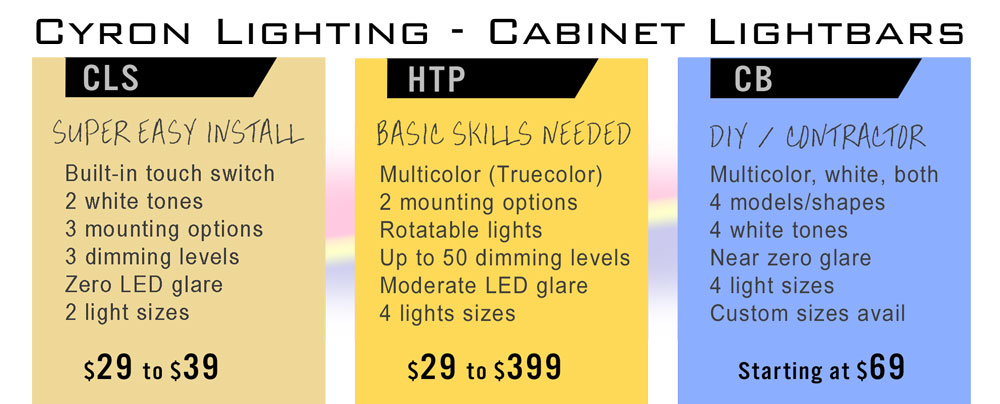 ---
Installation cannot be any easier than this. Adapter plugs into the wall, lights get secured with built-in magnetic pads. Turn on and dim the lights using the built-in touch switch. Mounting brackets are also provided if you choose to fasten with screws.


---
Basic DIY Skills needed. (Plug and Play, one-eye-closed-DIY)
If versatility is what you are after, look no further. Ability to do colors is in the forefront of the features for this series. A central microprocessor controller and hub connect directly to all the lights to produce just about any color. Available in 4 different sizes of lights, 4 different controller technology and several different cord sizes makes the HTP series the jack of all trades. Kits and components are available to satisfy your project.


---
DIY Skills / Contractor (Ultimate custom solution. Roll-up-your-sleeves-for-a-couple-of-hours- but-nothing-to-be-afraid-of DIY)
The choice of savvy DIY and contractors. This is where customization sees no limits. 4 colors of light, 4 different standard sizes, several connection accessories, dimmable options are just the start. Ability to add proximity sensors, customize the light to any size from 9 to 120 inches and operating voltages of 12V or 24V, all are possibilities with this series of lights.
---
Most Frequently Asked Questions (FULL LIST Click Here)

Confusing? Having so many choices can be confusing. No fear, we are here to help. Complete the form below and let us guide you through the process. We will not be sharing your data with anyone, and certainly will not bombard you with frequent emails.